We hope you enjoy browsing our New Equipment section.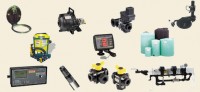 On the menu at the left, simply click on the category you are interested in for further information on the products in that category.

All ON-LINE ORDERS qualify for an automatic 15% discount – it will be applied when we process your order as our way of saying thank you for your on-line business.

From time to time, we will feature products on this page which we hope will be of interest – some may have SPECIAL PROMOTIONAL PRICING attached to them, so keep checking this page.