Home
>
Impellicone Flow Divider; 13-outlet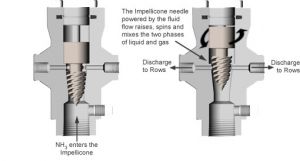 More Information
Flow Divider for NH3 - from CDS / John Blue - evenly mixes the gas and the liquid portions of NH3 and distributes accurately to each row


The CDS-John Blue Impellicone is a flow divider designed for Anhydrous Ammonia (NH3). It distributes NH3 to multiple rows across an applicator with the accuracy and flexibility you have come to expect from CDS-John Blue Products. Impellicones name comes from the unique shaped needle, which spins and mixes the liquid and gas phases distributing them evenly to the number of outlets you need. The CDS-John Blue Impellicone can be used for all NH3 applications at normal rates, while also offering the flexibility to plug unused outlets without sacrificing accuracy. The Impellicone superior accuracy allows better control of targeted rates greatly reducing the over-application of NH3. This will result in less nitrogen leaching, lower crop yield variability and ultimately lowering overall application costs.

The Impellicone concept was researched by Iowa State University and collaboratively developed with and licensed to CDS-John Blue Company. After extensive testing through Iowa State, field trials and a lengthy approval process, CDS-John Blue Company is proud to offer new patent pending technology in two models, the IP-1300 (13-port flow divider) and the IP-1800 (18-port flow divider).