Home
>
Sprayer Parts
>
Nozzle Bodies
>
TeeJet 360-series - dry boom
TeeJet 360 Nozzle Bodies - Dry Boom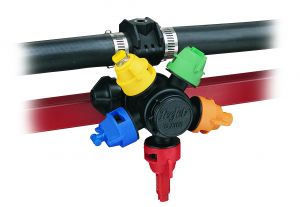 Contact to order

Please reference part # QJ365C-1000-2-NYB when
you get in touch. Thank you!
More Information
Available with either 3, 4 or 5 spray positions for easy change of spray tips or quick boom flushing.
Positive shutoff between each spray position.
Maximum operating pressure of 300 psi (20 bar).
Available in 1/2", 3/4" or 1" single or double hose barbs.
Icludes ChemSaver diaphragm check valve for drip-free shutoff.
Durable design mounts body high on boom for maximum protection.
Standard EPDM diaphragm with Viton® available as an option.