Home
>
ONSITE - Septic / Cistern Tanks & Access.
Septic/Cistern - Poly - Shallow-Burial - Low-Profile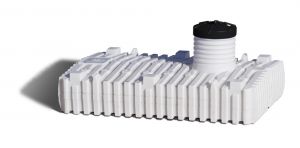 Contact to order

Please reference part # LP2000B when
you get in touch. Thank you!
More Information
152" L x 94" W x 31" H; Manway 24" dia. x 30" H. Internal posts support tank top. Ideal tank for use as a fresh water cistern or waste water holding tank. May be buried with up to 2 feet of over-cover. CSA-approved.