Home
>
ONSITE - Septic / Cistern Tanks & Access.
Septic Tank/Field Treatment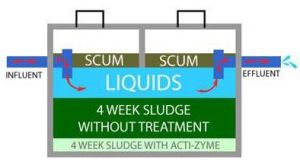 Contact to order

Please reference part # AZ-1.5 when
you get in touch. Thank you!
More Information
454 gm Jar. Acti-Zyme is a unique enzyme and cultured seed bacteria used to organically treat septic systems and sewage installations. Acti-Zyme works continuously year round to: Reduce sewage blockages; Eliminate offensive odours; Consume sludge in lagoons, lines, fields and tanks; Avoid waste overflows; Stop pollution of waterways; consumes and liquifies grease and solids. Since Acti-Zyme is water soluble, it will gradually seed into the drain field where it continues to work there as well.