Home
>
Strainers
>
Thompson SS Strainers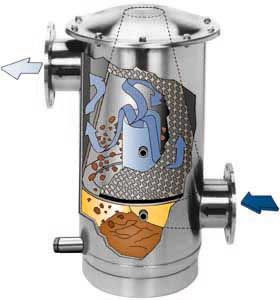 Contact to order

Please reference part # MLI-10 when
you get in touch. Thank you!
More Information
Dependable, Low Maintenance Filtration
The Thompson Filter is a patented stainless steel screen filter that is designed for the removal of sand and sediment from well water for the irrigation and liquid fertilizer industry. Our unique filter has grown popular due to its low maintenance design, stainless steel construction, space saving profile, and exceptionally low pressure loss.

All models of the Thompson Filter operate with less than a 1-PSI pressure loss at maximum flow when clean. This efficiency provides real energy savings when compared to filter products that rely on energy consuming devices like spinners and torpedoes to give a comparable cleaning action. Call us today for a free energy savings estimation.


Choosing a filter with sufficient surface area is critical in any application. The Thompson Filter has significantly more surface area than most traditional basket and y-strainers. Miller-Leaman has a filter that will fit your specific needs with units available from 2" to 10" and flow rates up to 2,000 GPM (higher flow rates are achieved by manifolding multiple filters). Our screen mesh options are available from 16 to 250 mesh.

The Thompson Filter, made in the USA and backed by Miller-Leaman's dedication to customer service, is a simple cost-saving quality product that you can depend on.
Filter Cutaway
High Quality Stainless Steel
Industry's Lowest Pressure Loss
Patented, Low Maintenance Design
Space Saving Profile
Reduces Capital Costs


The Thompson Filter's internal flow patterns are responsible for making our unique product so effective. As water flows up through the filter housing and deflects off the surface of the conical shaped filter screen, sediment is effectively forced back down, away from the screen, into the large debris reservoir. The sediment is then easily removed through the flush port. Effective separation of the water and the sediment is achieved while minimizing debris contact with the screen.

The Filter/Strainer vessel is purged while online and in operation. By opening a valve on the flush port, all debris in the lower reservoir is purged from the vessel, as shown. Backflushing or taking the unit off-line is not required to perform this flushing procedure.

Thompson Filter Technical Data
Housing (all models):
T304 Stainless Steel
T316 Stainless Steel Available By Special Order
Filter Elements:
Screen Frames: T304 Stainless Steel
Screen Mesh: T316 Stainless Steel
Perforated Sheet Metal: T304 Stainless Steel
Internal Piping:
2" and 3" Models Use a Type 304 Stainless Steel Riser Pipe
4" Through 10" Models Use a PVC Elbow and Riser Pipe Assembly
CPVC is Available By Special Order
Stainless Steel is Also Available By Special Order
Gaskets:
EPDM is Standard, Other Compounds Are Available By Special Order
Gaskets Include: Lid Gasket, Disk Gasket and Filter Gasket (bottom gasket)
Lid Enclosure-Nut/Bolt Washer assembly (bolted lid models only)
Bolt, Washer and Nut: Grade 5
Band Clamp Assembly (clamped lid models only)
Clamp and Handle: T304 Stainless Steel

Gauge Ports (all models):
1/4" FNPT T304 Stainless Steel Inlet & Outlet Gauge Ports Are Standard
(gauges not included)
Thompson Filter Quick Reference Chart
| Model Number | Max. GPM | Screen Surface Area | Inlet/Outlet Style | Flush Port Connection Size | Lid Type | Max Pressure Rating (PSI) |
| --- | --- | --- | --- | --- | --- | --- |
| MLI-2 | 100-GPM | 122 sq. in. | 2" Male NPT | 1 1/2" Male NPT | Clamp | 125-PSI |
| MLI-3 | 200-GPM | 200 sq. in. | 3" Male NPT | 1 1/2" Male NPT | Clamp | 125-PSI |
| MLI-4C | 350-GPM | 367 sq. in. | 4" Flanged | 1 1/2" Male NPT | Clamp | 125-PSI |
| MLI-4B | 350-GPM | 367 sq. in. | 4" Flanged | 1 1/2" Male NPT | Bolt | 150-PSI |
| MLI-6 | 750-GPM | 745 sq. in. | 6" Flanged | 1 1/2" Male NPT | Bolt | 150-PSI |
| MLI-8 | 1,300-GPM | 1,559 sq. in. | 8" Flanged | 1 1/2" Male NPT | Bolt | 150-PSI |
| MLI-10 | 2,000-GPM | 2,434 sq. in. | 10" Flanged | 1 1/2" Male NPT | Bolt | 150-PSI |
The models above are Miller-Leaman's standard product line.  Miller-Leaman, Inc. products undergo constant quality control and improvement evaluations. The manufacturer reserves the right to make changes and improvements in the product without prior notice. Thompson Filter U.S. Patent #5,132,013
Tired of stopping to unplug screens on your high-clearance sprayer?  Mount a Thompson Strainer on your High-Clearance Sprayer and eliminate your nozzle screens.  By replacing nozzle screens with a 2" Thompson Strainer, dealers have found they can save time and money, and reduce "misses" due to plugged nozzles.