Home
>
Pumps & Meters
>
John Blue Centrifugal Transfer Pumps
John Blue Wet Seal Transfer Pumps for Gas Engines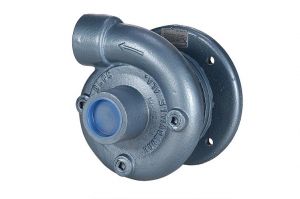 Contact to order

Please reference part # S-3336 when
you get in touch. Thank you!
More Information
197 GPM - 3500 max RPM - min 5 hp
Description

Cap.

GPM

Max

PSI

Max

RPM

Recommended

Min HP

2" Straight Pumps

197

39

3500

5

3" Straight Pumps

365

60

3500

10

2" Self-Priming Pumps

152

42

3500

5

3" Self-Priming Pumps

308

65

3500

10
May be operated DRY without damaging the sealsDouble, wetted seals are continuously lubricated to reduce wear.
Patented Vac-U-Seal design eliminates pressure on the seal by
creating a vacuum around the seal.
Heavy cast iron construction for extended service life.
Closed impeller design minimizes thrust loading on the drive motor,
extending its service life.
HINT: Both Straight and Self-Priming pumps incorporate the double wetted
seals. Straight pumps, which have a greater capacity, should be used only in applications where the pump is sure to be fully charged with head pressure. Otherwise, use a self-priming pump.