Home
>
Rate Control Systems & Components
>
Controllers
Data Link Module (Mid-Tech)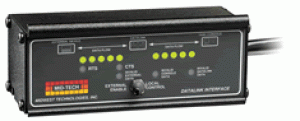 More Information
Two Way Communication and check sum verification help make the MID-TECH "Data Link" the choice for site specific communication.
Use a Data Link to connect a TASC console to an external mapping processor connected to a GPS receiver to conduct variable-rate applications.
Connects to external device with standard DB-9 serial connector
Built-in LEDs confirm communication status.
Data Link is powered by the TASC console to which it is connected.
Not compatible with ARC 6000 console.